Valentine's Day is a day of romance, for sure, however, it can be nerve-wracking trying to come up with the perfect activities. You want to create the right mood of romance, but you also want to have a fun, memorable experience. Dinner and drinks are always a good idea, but other activities include live music, dance, or creating something together. Valentine's Day isn't just about couples in love either. It can include a night spent with friends too. Here is a list of activities you can do with your significant other or a group of friends this Valentine's Day?
Get Out of the House
Fill Your Day With Fun Random Activities
Spice up your relationship and keep your partner on their toes by surprising them with a day of fun and random activities. It's always good to throw in a day of new adventures to mix up the old dinner-and-movie date routine.
Here are some ideas that may capture your imagination: go sand duning, ice skating, visit an amusement park, try a water sport, go rock climbing, zip-lining, or attend a sports game or concert together. The possibilities are endless. But these activities often create lasting memories the two of you will never forget!
Recreate Your First Date
First dates are nerve-wracking. Unlike other first dates filled with overzealous giggling and awkward pauses, you can recreate your first date. Invite your sweetheart to relive the first date one more time!
First, start by writing every detail of the first date you can remember. How did you prepare for the date? What were you wearing? And where did you guys go? Make sure to ask your partner the same questions. Get them to relive their feelings and excitement about the date. Now, you've got both sides of the story, and you're ready to recreate the magical night! On the date, you can bring a set of first data conversation starters or starter questions to get to know each other better. You'll never know what new things you'll learn about your partner!
Have a Spa and Massage Date
There's nothing like a massage to help relieve your stress and worries. A couples massage allows partners to experience a massage together. Some spas turn into a romantic event that leaves guests starry-eyed, setting the treatment in a special room beachside underneath the stars or a couple's guest room. Luxurious spas can have cozy spa fixtures such as dual soaking tubs, jacuzzis, shower facilities, fireplaces, sumptuous treats, and champagne. You'll receive a full service of massages and pampering rejuvenating facials.
Rent a Cozy Cabin in the Mountains
There's nothing like spending Valentine's Day weekend in a cozy cabin surrounded by an oasis of breathtaking views. Imagine staying up in a secluded cottage and cabins, perched high atop the mountain and far away from the hustle and bustle. It's common to find bed-and-breakfast hotels and charming inns nearby.
Most romantic cabins come with luxurious amenities such as a hot fireplace inside the room. Share some wine with your other half as you soothe in the hot tub and let your worries fade away. Wake up to the gorgeous sunrise and see the backdrop of snow-covered mountains. Lastly, cabins usually come with a fully-equipped kitchen. Light up some candles and spend the night with delicious food and great company.
Send Your Partner on an Exciting Treasure Hunt
If you're tired of the same old dinner-and-movie dates, it may be time to spice up your date night. Instead, surprise your partner with a romantic treasure hunt that they'll never forget. Everybody loves a good treasure hunt, especially when it's a meaningful one.
Consider adding thoughtful clues and poems related to their interest. Perhaps each clue could be a destination or activity that you participate in. At the end of the trial, make sure to reward your partner with a gift. It could be a specially wrapped gift or meaningful venues like a beautiful restaurant, baseball game, or rooftop terrace.
Stay at Home
Play a Couple's Themed Game
Couples games are a great way to introduce lighthearted competition into your relationship. Win, lose or draw, you'll learn a lot about your partner and it will encourage you to gain a deeper understanding of one another.
Question games allow couples to both communicate openly and think deeply. Instead of answering mundane questions, ask about more meaningful details of your life. You may ask about your partner's secret hunches, terrible memories, scariest nightmare, their idea of a perfect day, and perhaps even hidden talents.
Additionally, there are plenty of fun, creative quizzes online. For example, websites like Buzzfeed and Marriage.com have online quizzes that help discover your "couple personality." Of course, if you're feeling nostalgic, you can play your favorite childhood board games, card games, or even video games.
Make a Scrapbook of Your Relationship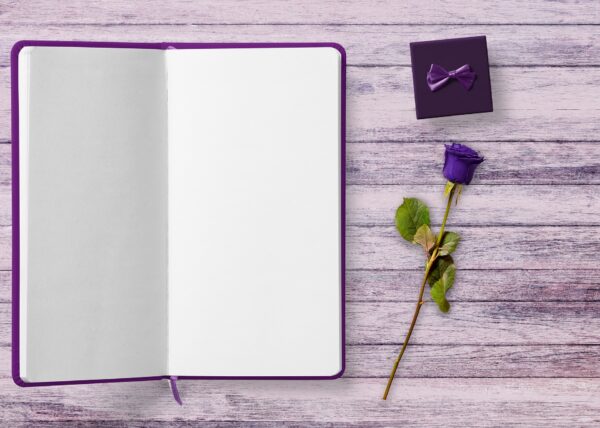 Every moment is worth cherishing. Scrapbooks give your memories in a physical form that you can go back to and experience the emotions behind the beautiful moments you and your partner have spent together.
Go through everything you've kept and compile all your relationship memorabilia. Include the most memorable and thoughtful items such as a movie ticket from your first date, love letters, and travel photos. You can even add thoughtful messages such as a bucket list of things you want to do with your partner or a "what I love about you" list.
Enjoy a Rom-Com Marathon
One of the best ways to celebrate Valentine's day is to snuggle up and stream a romantic movie. Make your home date night feel like a fancy evening out. Start by making a delicious dinner for two and then exchanging gifts with your loved one. After that, continue onto your night and watch your favorite romantic movies.
There are many timeless rom-coms such as 50 First Dates, When Harry Met Sally, and Bridget Jones's Diary. Additionally, there are new favorites like The Big Sick or Crazy Rich Asians. Hopeless romantics may enjoy tearjerkers like The Notebook.
Write Each Other a Love Letter
In our fast-paced lives, many of us can barely squeak enough time to send a proper text. On Valentine Day, spend time intentionally and thoughtfully crafting a heartfelt letter to your spouse.
Start by setting the atmosphere that can aid in exuding romantic ideas. Light a candle and indulge in the aroma and glow for a few minutes. Turn on a romantic playlist to help you relax and share your feelings about your partner. Then write about topics that resonate with you. For example, speak about where you met, characteristics you love about each other, or your favorite moments together. You can even speak about what dreams you hope the future holds for the two of you.
No comments found.