From sea to shining sea, the United States is packed with hikes that'll take you on adventures involving soaring heights, deep valleys, and everything in between. In fact, people come from all over the world to experience some of the natural resources that are right in our own backyards.
From the bone-dry desert to the murky swamps, you'll be humming along to "America the Beautiful" as you hike around the country.
Black Rock Summit via Trayfoot Mountain and the Appalachian Trail
Virginia is for lovers of great hikes like the one found on the Black Rock Summit via Trayfoot Mountain and the Appalachian Trail. It's just over a mile, yet you'll have to put in the work to make it to the top. Start off with a gradual incline that picks up as you ascend the mountain. It takes a solid 30 – 40 minutes to reach the peak and then you have all the time in the world to take in breathtaking views of the valley below and mountain ranges beyond. Those looking for a more advanced hike can make their way up using the rock scramble.
https://www.nps.gov/shen/index.htm
Cypress Swamp Trail
Get up close and personal with the gators and other creatures that live along the Cypress Swamp Trail in Florida's Highlands Hammock State Park. This half-a-mile loop trail is just one part of a greater matrix that is this state park. Slink across the wooden catwalk as the large, centuries-old cypress trees stand at attention all around you. You'll have the chance to see all kinds of local wildlife, including deer, bears, and sometimes even a black panther. Some people find this trail's configuration a little daunting, so be sure you're ready for the challenge. 
https://trails.hikeitbaby.com/trail/cypress-swamp-trail-highlands-hammock-state-park-florida/
Devil's Bridge Trail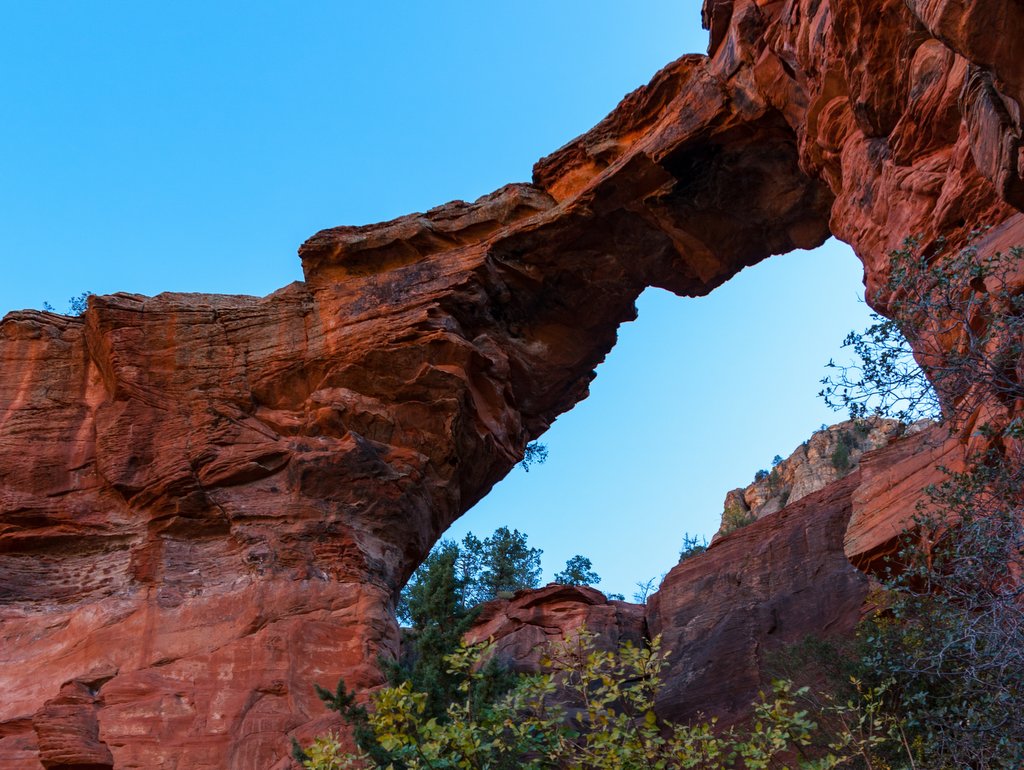 The stately sandstone arch welcomes you to Devil's Bridge Trail in Coconino National Park in Sedona, Arizona. The springtime sees a rush of visitors all looking to get a glimpse of the Red Rocks and iconic southwest landscape. After leaving the Dry Creek Vista Trailhead, you'll come upon a rock staircase that leads you to the bridge. This particular section is quite popular, so be aware that you'll likely hit some foot traffic here. Hiking boots are recommended as there are some rock scrambles and uneven sections on this trail. Additionally, keep an eye out for off-roaders in motor vehicles.
https://www.fs.usda.gov/recarea/coconino/recarea/?recid=55292
Sleeping Bear Dunes Trail
It doesn't get any more pure Michigan than Sleeping Bear Dunes Trail in Sleeping Bear Dunes National Lakeshore. The whole four miles consist of hill after hill on the way to the top until Lake Michigan comes into focus. The large dunes make this trek a fun challenge with the end result being an extraordinary view of the lake and thick forest beneath you. The sandy dunes are accented by beautiful wildflowers that are in bloom during the springtime. Sleeping Bear Dunes Trail also has picnic tables and a bathroom available near the parking lot. 
https://www.nps.gov/slbe/planyourvisit/traildunes.htm
Ship Harbor Trail
The only thing that could possibly make this experience more New England is if you scaled the rocky beaches with a lobster roll in hand. Ship Harbor Trail is a short hike in Acadia National Park that draws you right to the coast of the Atlantic to stand on Maine's jagged shore. The figure eight trail is couched between the regal trees where birds and other wildlife make their home. Bear right at the first junction to head to the tranquil cove and through the forest before reaching the coast. Ship Harbor Trail is just over a mile and you'll conveniently end up where you started if you follow the path. 
https://www.nps.gov/thingstodo/hike-ship-harbor-trail.htm
Door Trail
The aptly named Door Trail in Badlands National Park ushers you into a dusty South Dakota paradise with majestic mountains surrounding you every way you look. This is a unique hike that comes in the form of a short stroll on an accessible boardwalk that serves as the introductory "door" to the Badlands. From there, you'll start a slightly more strenuous trek that takes you on a journey down a rocky path. The Door Trail lets you choose from a few different ways to go, as long as you follow the posted signs. 
https://www.hikespeak.com/trails/door-trail-badlands/
Van Hooks Falls and Cane Creek Valley Trail
London, Kentucky is proud to welcome you to the Van Hooks Falls and Cane Creek Valley Trail in Daniel Boone National Forest. Upon entrance, start your descent to Cane Creek where you're greeted by massive rock slabs that serve as a prime resting or picnic spot. The next leg of your journey sees you through the rocky patches and straight into Van Hooks Falls. The swimming holes are a nice respite when the water is high. You can expect some mud when you get near the falls, yet the overall trail isn't too tricky to manage for most people.
https://www.fs.usda.gov/detailfull/dbnf/specialplaces/?cid=fsbdev3_032557
Ka'ena Point Trail
Hawaii is so incredible that a hike around any given block would probably leave most speechless. The coast of Oahu features Ka'ena Point Trail that's sure to take your breath away as you scale the beach and reach the cliff. A three-mile walk gets you right to the water's edge and you even get to experience a lighthouse during your hike along this former railroad bed. Park yourself on the rocky coast overlooking the dazzling Pacific Ocean. This section of the island is also said to be spiritually significant to Hawaii's culture and customs.