If you're looking for unforgettable outdoor experiences and a chance to connect with nature, you've come to the right place. Whether you crave the serenade of flowing creeks or the tranquility of forests, this blog is your ultimate guide. From breathtaking scenery to meticulously maintained facilities, each campground offers unique highlights that set them apart. Let's explore our top 10 favorite national park campgrounds.
#1 Schoodic Woods Campground | Acadia National Park
Schoodic Woods Campground is located in Acadia National Park on the scenic coast of Maine. This newest campground is a true hidden gem that provides a less crowded but more serene experience.
Schoodic Woods boasts 89 sites. All sites have electric hookups except for hike-in and group sites, and B-Loop sites have water and electric hookups. Each site is equipped with a fire ring and picnic tables. Flush toilets, a dump station, potable running water, an amphitheater, internet connectivity, and recycling/trash collection are campground amenities.
Aside from the lovely scenery of the Acadia National Park, it also has a rich history and countless recreational activities. This camping area and park has it all, whether you're interested in biking adventures, kayaking, leisurely strolls, or challenging hikes. The nightly camping fees range from $22 to $60.
#2 Upper Pines Campground | Yosemite National Park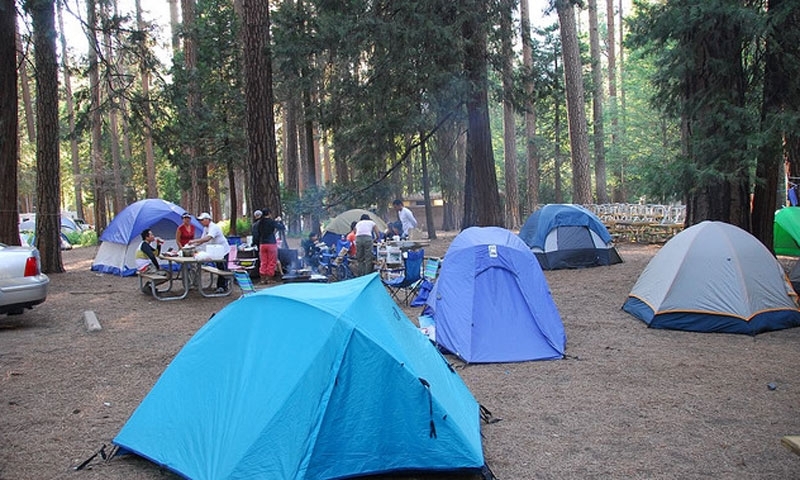 Upper Pines Campground is one of the true gems that will leave you breathless. This campground is the largest of the three reservation campgrounds in Yosemite Valley.
Upper Pines has parking spurs, paved roads, drinking water, and flush toilets in addition to the nearby Curry Village that has showers, restaurants, an amphitheater, and a general store. There's a fire ring, food storage locker, and picnic table in each campsite. Popular activities are rock climbing, hiking, auto touring, cross-country skiing, rafting, and horseback riding.
Be sure to keep an eye on the 15th of each month at 7 a.m. PST since Yosemite campgrounds are very popular and often sell out in a matter of minutes. The daily/nightly rate is $36.
#3 Aspenglen Campground | Rocky Mountain National Park
Located near the Fall River Entrance in Rocky Mountain National Park, Aspenglen Campground presents a variety of conveniences to boost your stay. Its unbeatable location offers endless outdoor adventures for families to enjoy.
The campground has 53 tent and RV sites, including a few walk-to, more secluded tent sites. Each is equipped with a tent pad, picnic table, and fire ring. Drinking water, utility sinks, flush toilets, food storage lockers, and recycling/trash collection are provided. Additionally, parking spurs and roads are paved.
Rocky Mountain National Park has myriad hiking trails and driving routes that range from steep mountain climbs to lakeside strolls or from a historic road to the nation's highest continuous highway. The camping fee is $35 per site per night.
#4 Loft Mountain Campground | Shenandoah National Park
Loft Mountain Campground is a grand getaway in the historic mountains of Shenandoah National Park. With its picturesque location and vast size, this campground highlights unique experiences for all campers.
This huge campground offers 207 campsites, flush toilets, and dump and water stations. There's also a nearby camp store with pay showers, two visitor centers, concession-managed gift shops, lodging facilities, and restaurants scattered around the park.
Trails into the area of Big Run Wilderness and two waterfalls are nearby. The camping fee is $30 per standard, nonelectric campsite for RV or tent.
#5 Trailer Village RV Park | Grand Canyon National Park
Set in a beautiful desert landscape, this RV park is the only in-park campground with full hookups. Trailer Village RV Park is open year-round and features 123 pull-through sites that accommodate up to 50 feet long vehicles.
Aside from the full hookups, each classic RV site is equipped with a picnic table while paved RV sites include charcoal grills, picnic tables, and cable TV. Amenities and services include a camp store, trash/recycling collection, laundry facilities, a dump station, and potable water.
The RV park is within walking distance to the canyon's rim and South Rim Village which has plenty of convenient facilities. Camping fees range from $61 to $71.
#6 Island in the Sky (Willow Flat) Campground | Canyonlands National Park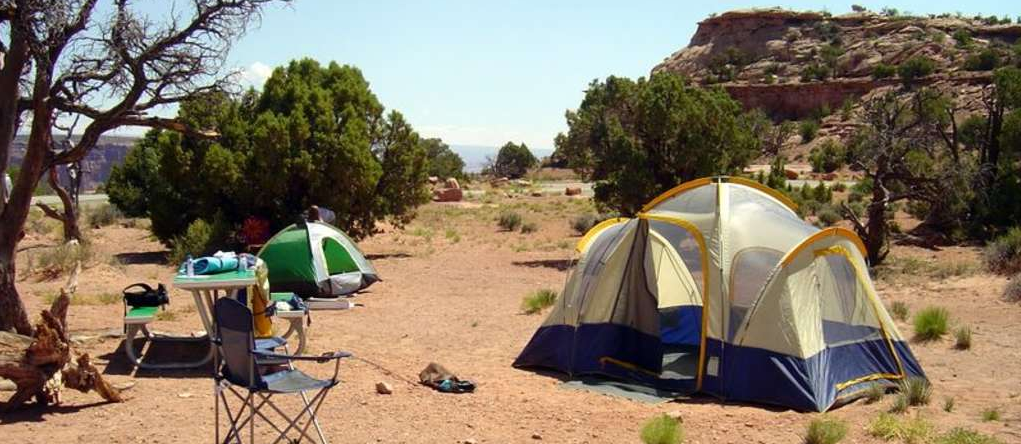 Island in the Sky Campground is a quiet and small camping destination in the breathtaking Canyonlands National Park. As its name suggests, staying at this campground feels like you are on top of the world.
This year-round campground has 12 first-come, first-served sites. There are several picnic tables, fire rings, and toilets. However, there's no potable water so make sure you bring enough water for your stay or you can just get some from the visitor center.
It offers a more intimate and slower vibe, which makes it an ideal spot for those who want to relax and reconnect with nature. Additionally, it's only a few minutes walk away from spectacular views at Green River Overlook. The nightly camping fee is $15/site.
#7 Canyon Campground | Yellowstone National Park
Canyon Campground is one of the most popular campgrounds within the Grand Canyon of Yellowstone. The campground offers 273 individual sites, ranging from partly shady sites to more sunny ones.
Each site includes a fire ring and picnic table. Amenities and services include hot showers, flush toilets, a dump station, laundry facilities, potable water, food storage lockers, and trash/recycling collection. Additional lodging, stores, and restaurants are available at the Canyon Village which is less than a mile from the campground.
The park is wildly popular for its scenery, wildlife, and tons of outdoor recreation opportunities. Campers can enjoy biking, hiking, boating, fishing, and much more. The nightly fee is $39 and $10 per person for a hiker/bicyclist campsite.
#8 Gros Ventre Campground | Grand Teton National Park
Grand Teton National Park's largest campground, Gros Ventre Campground, is surrounded by cottonwood trees and features magnificent views of the Teton Mountains and Blacktail Butte. Though it's close to the town of Jackson and its many services and amenities, there's still a definite feeling of tranquility and remoteness, making it an ideal campground for many people.
All campsites include a fire pit and picnic table. Bear boxes, flush toilets, cold running water, food storage lockers, and a dump station are available. Gros Ventre River and Snake River offer many water activities, including fly fishing. Other activities in the park are hiking, rock climbing, and exploring cultural and historic sites.
The camping fee is $50 (campsite with vehicle), $77 (campsite with electric hookups), and $15/person (group campsite-10 person minimum). The campground is first-come, first-serve only.
#9 Under Canvas Moab | Arches National Park
This exceptional campground is the epitome of luxury camping. Perfectly positioned near two renowned national parks (Canyonlands National Park and Arches National Park), Under Canvas Moab offers an adventure-filled experience in one of the nation's most exhilarating destinations.
This campsite effortlessly harmonized the beauty of surrounding landscapes, towering plateaus, and deep canyons which allows you to fully experience the desert in all its glory. It features a wide range of tents suitable for every budget and size group. All tents come equipped with towels, bedding, toiletries, heating, and a fireplace.
Picnic tables, outdoor grills, and Trailer/RV parking are available in the camp. Site rates range from $259 to $684 per night.
#10 Fish Creek Campground | Glacier National Park
Glacier National Park's second largest campground, Fish Creek Campground, boasts 178 campsites that cater to both tent and RV campers. This remarkable destination offers privacy and a serene ambiance with its dense forest canopy and thoughtfully spread apart campsites.
Potable water, restroom facilities, flush toilets, a dump station, picnic tables, fire pits, a food locker, tent pads, and a ranger station are available within the campsite. Several sites have scenic views of Lake McDonald, so lucky campers will have the best overall experience.
The national park is a hiker's paradise. With more than 700 miles of trails, explorers of all ages can totally immerse themselves in the wonders of nature. The daily/night rates are $5 (hiker biker shared site) and $23 (standard and tent-only non-electric).
Takeaway
So there you have it, our top 10 best spots for camping in and near national parks. We hope our guide has given you insightful ideas and inspiration for your upcoming holiday, whether you're looking for picturesque lakeside views or family-friendly amenities.
The best thing, though? You are welcome to bring your four-legged companions along for the adventure at any of these campgrounds. Go forth and embrace the wonders that await in these boundaries. Happy camping!
No comments found.